History
The 4-story building housing The Glen Haven has had a varied and checkered past. In early 1900 it opened as a tearoom for wealthy ladies. During Prohibition, illegal whisky was served in what had become a "Speakeasy". In the 1920's, it was converted to a guest house named the Rest Haven. In the later 1940's it became a tavern. Today and for the past three decades, The Glen Haven is known for serving great and innovative food in a relaxed lake atmosphere.
Why are we called a "hotel"?
In order to qualify for a package liquor license in the 1940's, a former owner rented out a few rooms. He renamed the structure The Glen Haven Hotel, after the famous Glen Haven Hotel Resort & Water Cure. In 1980 Chris and Susan Beaudry purchased The Glen Haven in order to create their own tradition of combining excellent cuisine with a casual lake atmosphere. Each Spring Mary Ryan returned to The Glen Haven kitchen with exciting new menu items and returning favorite entrees. The new owner bought The Glen Haven in January of 2016 and is committed to keeping the tradition alive with many new improvements to come!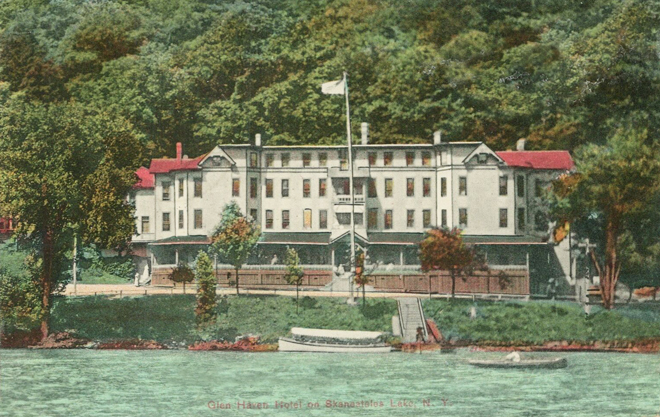 The 'South End of Paradise'
Located on the waters of one of our nation's cleanest lakes, The Glen Haven evokes feelings from years past. You'll take a relaxing trip back in time while you enjoy the traditions of fine dining and attentive service in a casual atmosphere. For generations this restaurant has served as a gathering place for the families who summer along the lake and visitors from all over the world. The Glen Haven is now known for its friendly tavern, lodging & quality cuisine.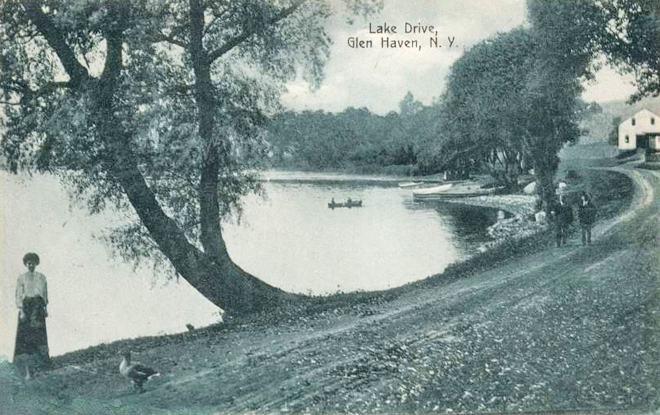 By Boat or Car
You'll discover that not much has changed in the past few generations. The wooden Chris Crafts still dart over the pristine waters. Guests arrive by the beautiful lake roads, or by boat and moor in our marina. Launch facilities are available for day boaters, or you may rent a slip for the season. Dinner patrons are welcome to dock without charge.